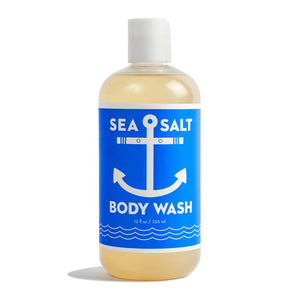 SMELL THE SURF!
Go from landlocked to seaside in seconds with these ocean-fresh suds.
Our signature Sea Salt scent is classically clean, like crisp ocean air. Keep skin summer-soft all year round when you lather up with Organic Aloe Vera Juice, Coconut Oil, and Shea Butter.
No Sulfates • No Parabens • No Silicones • No EDTA • No Added Color
12 fl oz. Bottle
Leaping Bunny Certified Cruelty-Free • Vegan                                                                   
If your bottle is looking a little cloudy at the surface - don't panic. It's organic! The natural composition of coconut oil shifts slightly with varying temperatures (warm to cold, cold to warm). If natural separation occurs, just give the bottle a little shake and place under hot water for a few seconds before using. Your thirsty skin will thank you. Oh-so-soft skin is just a wash away!
Ingredients: Organic Coconut Oil, Organic Olive Oil, Organic Sunflower Seed Oil, Potassium Hydroxide, Glycerin, Guar Gum, Organic Aloe Vera Leaf Juice, Citric Acid, Organic Shea Butter, Organic Rosemary Extract, Sea Salt, Parfum (Fine Fragrance Oil).