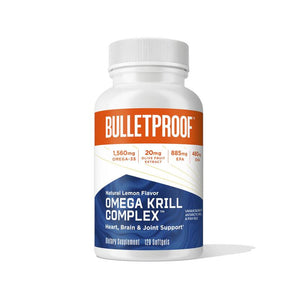 Powerful omega essentials you can feel.
60 SERVINGS (120 count)
PERFORM LIKE A WELL-OILED MACHINE
EPA, DHA, and GLA are necessary fatty acids for overall wellness, as well as proper brain and heart function
Major components of skin, brain cells, nerve cells, retinas, and more
CLINICALLY-BACKED OMEGA-3 BLEND
Unique blend of Antarctic krill, Norwegian herring roe, Atlantic and Pacific fish oils
Optimal doses of EPA and DHA for brain power and strong heart support
Astaxanthin and olive fruit extract for protection against oxidation with bonus heart, skin, and antioxidant benefits
ESSENTIAL OMEGAS, MEGA SIMPLE
Take one serving first thing in the morning and another before bed with food.
INGREDIENTS
A unique blend of essential fatty acids that you won't find anywhere else. All ingredients meet international sustainability and purity standards.
KRILL OIL
A superior source of EPA and DHA because the polyunsaturated fats are packaged as phospholipids, which your body can use immediately. Krill is also high in astaxanthin, a powerful antioxidant that supports your eyes and brain.
NORWEGIAN HERRING ROE OIL
Known as the caviar of fish oil because of its potent 3-to-1 DHA-to-EPA ratio bound with phospholipids.
WILD FISH OIL
Sourced from wild-caught Atlantic and Pacific sardine, anchovy and mackerel chosen specifically for their high omega-3 content and purity.
GLA (GAMMA-LINOLENIC ACID)
GLA is hard to come by in the traditional diet and has been used due to its powerful ability to support healthy skin. The GLA in Omega Krill Complex™ comes from borage seed (Borago officinalis), the highest-potency natural source of GLA available.
ASTAXANTHIN AND OLIVE FRUIT EXTRACT
Help stabilize these delicate oils while leveling up your body's free radical fighting power.
CALIFORNIA LEMON
Flavored with real California lemons. The result? No fishy flavor.
Supplement Facts

Serving Size: 2 Softgels
Servings Per Container: 60
Amount Per Serving
% DV*
Calories 25


Total Fat 2.5g

3%*

     Polyunsaturated Fatty Acids 2g

**

Cholesterol 10mg

3%

Bulletproof mega blend of wild fish oil concentrate, Antarctic krill

 

(Euphausia superba)

 

oil and Norwegian herring roe oil (Romega®), delivering: 2,420mg

**

          Total omega-3 fatty acids 1,560mg

**

             EPA (eicosapentaenoic acid) 885mg

**

             DHA (docosahexaenoic acid) 480mg

**

          Phospholipids 100mg

**

GLA (gamma-linolenic acid) (from borage seed oil) 70mg

**

Olive fruit extract (providing 5mg of hydroxytyrosol) 20mg

**

Natural astaxanthin (from green algae [Haematococcus pluvialis]) 2mg

**
* Percent Daily Values (DV) are based on a 2,000 calorie diet.
** Daily Value not established.
My new preferred source of Krill Oil and DHA
To begin with, I liked that it had more DHA than another Krill oil supplement I had used. But besides that since beginning to use it I feel very pleased with this product. When we ran out due to my thinking we had a back up which I was unable to find, I regretted it greatly. How much of this was my body telling me something, so to speak, and how much my mind doing some of the things it can do, sometimes very well but often not (a reason among others for double blind studies) I cannot say and do not feel it worth the time or bother doing some personal double blind experiment. I intend to continue using the Bulletproof Omega Krill Complex and to try not to run out again.I do feel this stuff is something I am glad to have come across.
Excellent product at a competitive price
I am delighted to find that you carry so many of the Bulletproof products!
I really value your competitive pricing and love that your business gives me the opportunity to 'Support Local'
Keep up the great job and thanks!