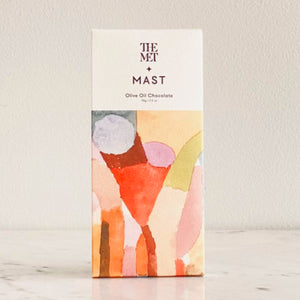 A delicious way to support the arts, this cherished partnership with The Metropolitan Museum of Art raises awareness and funds to keep this beloved arts institution going for years to come. Organic extra virgin olive oil is slowly drizzled into the churning dark chocolate. A touch of sea salt is added to magnify this surprising and fresh pairing.
Artwork: Movement of Vaulted Chambers by Paul Klee (German, born Switzerland, 1879-1940); Watercolor on paper mounted on cardboard, 9 1/4 x 11 1/8 in., 1915; The Berggruen Klee Collection, 1984 1984.208.3
Ingredients: Organic Cocoa Beans, Organic Cane Sugar, Organic Cocoa Butter, Organic Olive Oil, Touch of Sea Salt.
70% cocoa content