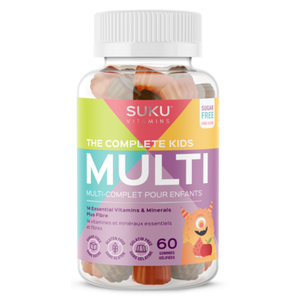 The perfect kids multi. This specially formulated, great tasting sugar-free multi delivers your little ones with essential vitamins, minerals and prebiotic soluble fibre to support their everyday biological functions and to fill in nutritional gaps that may be missing from their everyday diet.
Features:
A complete multivitamin with 14 essential vitamins, minerals, and added fibre
A source of vitamins and minerals to help your little ones maintain optimal health
A high source of fibre
Free of sugar and sugar alcohols
Free of gelatin and plant-based pectin
Free of GMOs, gluten, dairy, soy, egg, peanut, tree nut, shellfish
Directions:
Children 3 and up, take 2 gummies daily. Avoid taking before bedtime.  Take with food, a few hours before or after taking other medications or natural health products.
Active Ingredients:
Vitamin A, Vitamin B6, Vitamin B12, Pantothenic Acid, Folate, Vitamin C, Vitamin D, Vitamin E, Biotin, Iodine, Zinc, Choline, Inositol, Niacin

Non-active Ingredients:
Tapioca Syrup, Purified Water, Natural Fruit Flavour, Agar, Pectin, Citric Acid, Sodium Citrate, Beta-carotene, Black Carrot Juice, Spirulina Platensis Extract, Stevia Leaf Extract, Coconut Oil, Carnauba Wax.