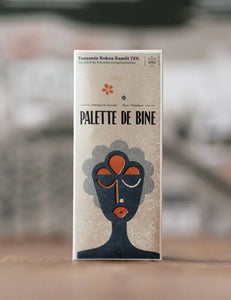 Tanzania Kokoa Kamili 72%
The bar you are about to savour is made of organically grown cocoa beans from a very small production grown in the Kilombero valley of Tanzania, a warm and humid region that bestows its beans with exceptional flavours. Beyond the rich and complex aromas of its beans, this microlot is unique in that Kokoa Kamili worked exclusively with women-managed farms to produce it, and will invest the proceeds of its sales in the creation of a post-secondary institution for girls in Mbingu, Tanzania. With all of this in mind we decided to name this bar, simply, Exceptional Women.
Monica Obaga is the illustrator who created the original design used to identify this microlot's bags at Kokoa Kamili. We are thrilled that she also accepted to create the illustration for this bar's packaging.